HONBU, KYOTO, JAPAN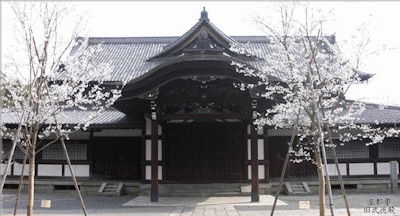 The Dai Nippon Butoku Kai was originally established in 1895 Kyoto Japan under the authority of the Japanese Government and the endorsement of His Royal Highness, Meiji Emperor to solidify, promote, and standardize martial disciplines and systems throughout Japan. It aimed for the preservation of traditional Budo and the nobility associated with Samurai culture. It was the first official and premier martial arts institution sanctioned by the government of Japan. The Dai Nippon Butoku Kai subsequently became the center for the proud heritage and elitism of Japanese Budo. It stressed the martial virtues of Samurai warrior and incomparable historical excellence in martial disciplines.
The historic Butokuden, martial arts hall was built in Kyoto near Heian Shrine to carry out the legacy of ancient traditions which was started in eighth century capital of Kyoto. It had remained emblematically the powerful symbol of esteemed honor and highest integrity where the prominent Japanese martial practitioners aspired to be recognized by the Dai Nippon Butoku Kai. The Dai Nippon Butoku Kai of today was reestablished again after the World War II with the new philosophical vision of preserving the long-standing illustrious classical martial virtues and traditions and to contribute to the world of humanity through Budo education. It aims for the restoration of classical martial cultures, supporting allied research, instruction and service, promotion of international peace and harmony, and the advancement of greater humanity through the education and training of the traditional martial arts disciplines.
The Governor of DNBK is His Royal Highness, Sosai, Higashi Fushimi, Jigo, the emeritus chief abbot of renowned Shorenin Temple. He is a brother to late Empress Kotaigo of the Emperor Hirohito of Japan. Vice Governor, his son, Higashi Fushimi, Jiko serves as the Monsu of the Shorenin Temple and conducts the ceremonial functions of DNBK today. Honbu DNBK authorizes and certifies the martial arts credentials in Kendo, Kenjutsu, and the Kobudo discipline that contains Aikido, Jiujutsu, Karatedo, Judo, Iaido, Jodo, Sojutsu, Kyudo and various traditional Kobudo. The authoritative board of directors of DNBK Headquarter in Kyoto is consisted of the highly regarded practitioners in their own domain of martial disciplines with meritorious martial arts record and legacies. Under the directive of the Honbu board, DNBK International Division was officially established in 1992 in the USA to organize, direct and coordinate all martial arts activities of Dai Nippon Butoku Kai in the international world outside Japan.
In 1992, the First All America Butoku Sai was held in Norfolk Virginia and in 1998, the First World Butoku Sai was held in Old Dominion University, Norfolk Virginia USA with three hundred Yudansha participating from ten nations. In 2002 April, the Second World Butoku Sai and the 40th National All Japan Butoku Sai was held in Kyoto Butokuden. This historic event was presided by Deputy Sosai and the Board of Directors of Honbu DNBK, with the support of Kyoto Governor, Kyoto Mayor and Kyoto Newspaper. Total of 650 elite Black Belts from fifteen nations participated in the unprecedented celebration of Budo spirit for their honor. In 2004, the Second All America Butoku Sai was slated in Old Dominion University with five hundred DNBK members from 20 nations. It was most notable the same year we held the first Youth International Butoku Sai in conjunction with America Butoku Sai. In 2005, Portugal Rensei Taikai and Spain Budo Seminar took place. In 2006, France Budo Seminar in Chartres, Belgium Butoku Sai in Brissels, and Canada Rensei Takai in Toronto were held with tremendous support of DNBK International Division members.
In 2007, DNBK International Division held the First World Youth Butoku Sai in Norfolk Virginia. In 2008, the Third World Butoku Sai was held in Kyoto Butokuden and in the summer, International Youth Butoku Sai was held. In 2009, DNBK held the annual Japan Butoku Sai in April and DNBK ID held the first Elite Budo Seminar for ten days intensive practice/lecture on Jujutsu, Aikido, Aikijujutsu disciplines in Butokuden. In 2009, Honbu and DNBK ID held the First International Rensei Taikai in Athens Greece in conjunction with 110th anniversary of Greco-Japan relation. In 2010 July, youth members from US, UK, France and Canada partook in the Japan Youth Butoku Sai and 21 elite members from Russia, US, Canada joined in the challenging Summer Elite Budo Seminar on Karatedo and Kobujutsu. In November of 2010, Fourth America Butoku Sai and Commemorative Gasshuku in celebration of 45th anniversary Shibu Dojo was staged in Virginia Beach Virginia USA Ocean front. In May of 2011, DNBK ID of the entire world campaigned rigorously for humanitarian effort to help the victims of Japan Tsunami and Earthquake disaster. DNBK ID along with the support of many civic organizations made substantial contributions to help the city of Ishinomaki, major disaster zone of Japan.
In June of 2011, Kyoto Elite Budo Seminar for Iaido, Sojutsu, and Jujutsu was slated with members from Russia, US and Ireland.
In 2011 July Canada Butoku Sai and Second World Youth Butoku Sai took place in Queens University, Kingston city, Ontario Canada. Over three hundred participants enjoyed the major international Budo festival in the historic city of Kingston Canada. Honbu Japan sent over sixty delegations to Canada for this major international event.
In 2012 April, the Fourth World Butoku Sai in conjunction with the fiftieth Japan Butoku Sai was held in Kyoto Butokuden Japan. 300 international members from 17 nations as well as 350 Honbu members across Japan partook in the majestic events slated for the celebration of major milestone year. They conducted the tree planting ceremony of cherry blossoms and dedication of impressive stone memorials in the courtyard of Butokuden. Budo demonstrations were one of the finest ever representations of the classical traditions of DNBK.
In 2013 June, elite Budo seminar of Jujutsu is scheduled in Kyoto Butokuden and in 2013 August, United Kingdom Butoku Sai is to be held in London UK.